---

---
Tik Mining
Published: June 3rd, 2023
Updated: June 23rd, 2023
Site: https://tikmining.com/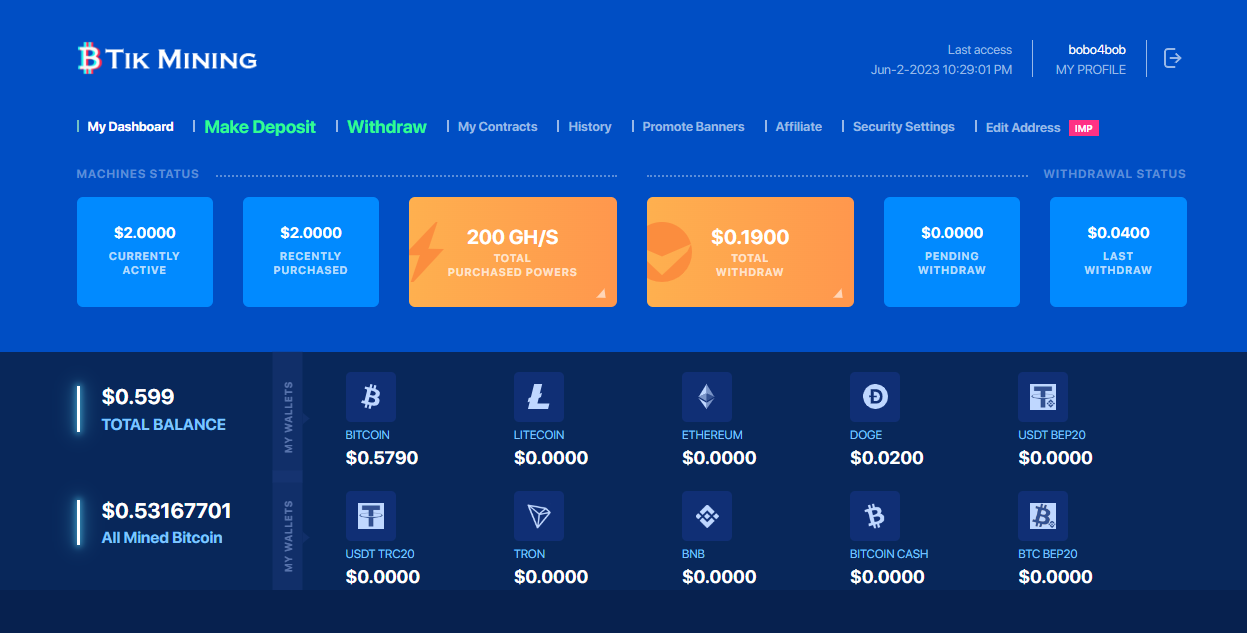 Tik Mining is the first where I signed up. I received a $2.00 bonus when registering, which comes to 200 GH/s mining power. Although that seems a lot, it really is not. Straight after registering, I received $0.05 in Litecoin (which I could immediately withdraw to my own wallet) and two days later I received another $0.10. About three weeks later I received another $0.04 in Litecoin and withdrawed that too. Apparently, these where all bonuses that everyone registered, received. A couple of days later I got $0.02 in Dogecoin as a bonus. It's a bit hidden away, but in the footer of the page you can find the "News" section where they tell you the reason for the bonuses.
The free plan (200 GH/s) runs for 250 days, and right now I'm almost 60 days in. The plans you can buy run all for 30 days, except one, which runs for 10 days. Withdraw fee and enegery fees are included in all plans. The difference between the plans is not clear at first glance, but the more you invest, the more you get in return. The 10-day contract for $10.00 has a 10% profit. That is pretty high. The 30 days "SILVER" plan has a deposit of $25.00 and a profit of 30% in 30 days. Other plans have even a higher return. And that is very high.
Tik Mining is registered in the UK. As a lot of scams I've seen, use a London registration number. The address seems to be an existing business building, but no outer display visible (google maps is updated in 2023). The domain name is registered in England and paid for until March 2030. But no other information about the owner(s) are displayed. So for now, let's wait and see how this turns out. For now, I have been paid $0.19 already!
Update June 23rd: All current users (date June 23rd 2023) has been distributed a bonus in BTC, LTC and DOGE. See their news-sections. A good thing is that you get an email on these kind of events too! I can confirm I've received $0.016 in Litecoin and Dogecoin.
Update August 4th: On July 21th all current users received an email that a Litecoin and Dogecoin bonus has been distributed. See their news-section. I now have a total of $0.07 in Litecoin and Dogecoin.
---

---
FreeTrx.pro
Published: June 22nd, 2023
Site: https://freetrx.pro/

FreeTrx.pro is one of the first mining sites that I noticed in a row of similar sites offering free mining power for Tron. This particulair site offers 50 $TRX of free mining power, which gives you about 0.5 $TRX a day.
There are currently 5 plans offering mining power, ranging from 10 to 500 TRX promising 0.3 up to 35 Tron. You have to withdraw your mining earnings to your main balance, which reduces your 'Mining capacity'. I guess when it's down to 0, your mining stops. But the plans show a total profit, so it might stop anyway after some time.
Besides a referral program, they also offer PTC-ads which are easy to do. They site does not contain ads right now.
FreeTrx.pro is registered with almost all domain information protected. The domain has been registered in September 2022 (for 1 year), but only active since a couple of weeks. No contact information on the site, except a support page which basically is a contact form. Be careful investing! For now, I have been able to withdraw 20 $TRX (that is 17 $TRX in your wallet), but read the full story here to get more information!
Update June 30th: IMPORTANT; read the full story here to get more information! (frequently updated!)
---

---
Tron Mining Farm
Published: June 3rd, 2023
Updated: July 20th, 2023
Site: https://tronminingfarm.com/
Based on the urls displayed, the software they use is the same as Tik Mining (see above) and Cin Mining (see below). However, the layout is, again, completly different. They offer 100 Gh/s for free when signing up (a.k.a. 10 TRX). As the name displayed, you'll mine Tron here. At 0.5% a day, my free plan expires in 190 days from now. I received 0.45 TRX on my Tron account and 0.30 TRX on my Litecoin account after registration. That last one seems odd. I can't seem to do anything with it right now.
Tron Mining Farm offers various plans starting at depositting 200 TRX for an 11% profit in 10 days. For 500 tron you'll even get a smashing 22% profit in 30 days. Based on the withdraw amount displayed on the page, you'll need 20 Tron. However, the FAQ mentions 50 TRX. Either way, the free plan will not be sufficient.
The website does not display an address, only a UK Companies House registration number (is that a real thing?) since April 2023. According to their FAQ, they are registered in Manchester, but the people are enthousiasts from various countries who have been in mining for over a decade. The domain name is registrered in England and paid for until January 2024 (existing a 1.5 years now). No other information about the owners can be found on the website.
Oh, and yes, the waves will get at your nerves at some point!
Update June 29th: I was able to withdraw the 0.55 TRX in my Litecoin account. I received (of course) Litecoin on my address worth the value of the TRX displayed.
Update July 20th: I don't know where it comes from, but I received another 0.5 TRX in my Litecoin account which I was able to withdraw!
Update August 4th: Two days ago, I received an email saying that they made a $5 million profit during the surge in Tron. A long email short, they have send Tron (I have not received any, but then I have not deposited any Tron) and random Dogecoin and Litecoin to all investors. I received the value of .25 TRX in both Dogecoin and Litecoin (around .00023300 in LTC). I have not yet entered my Dogecoin address, but the Litecoin withdraw is requested. As before, I'm pretty sure I will receive it shortly. For now, this site is worth to signing up to just for the free bonusses right now! Just do your own research before investing! I have NOT invested at this time.
Update September 2th: Another email received a couple of days ago telling me I received random value for Dogecoin and/or Litecoin. I received .25 TRX in Litecoin again.
---

---
Fair-Mining
Added: August 10th, 2023
Site: https://fair-mining.net/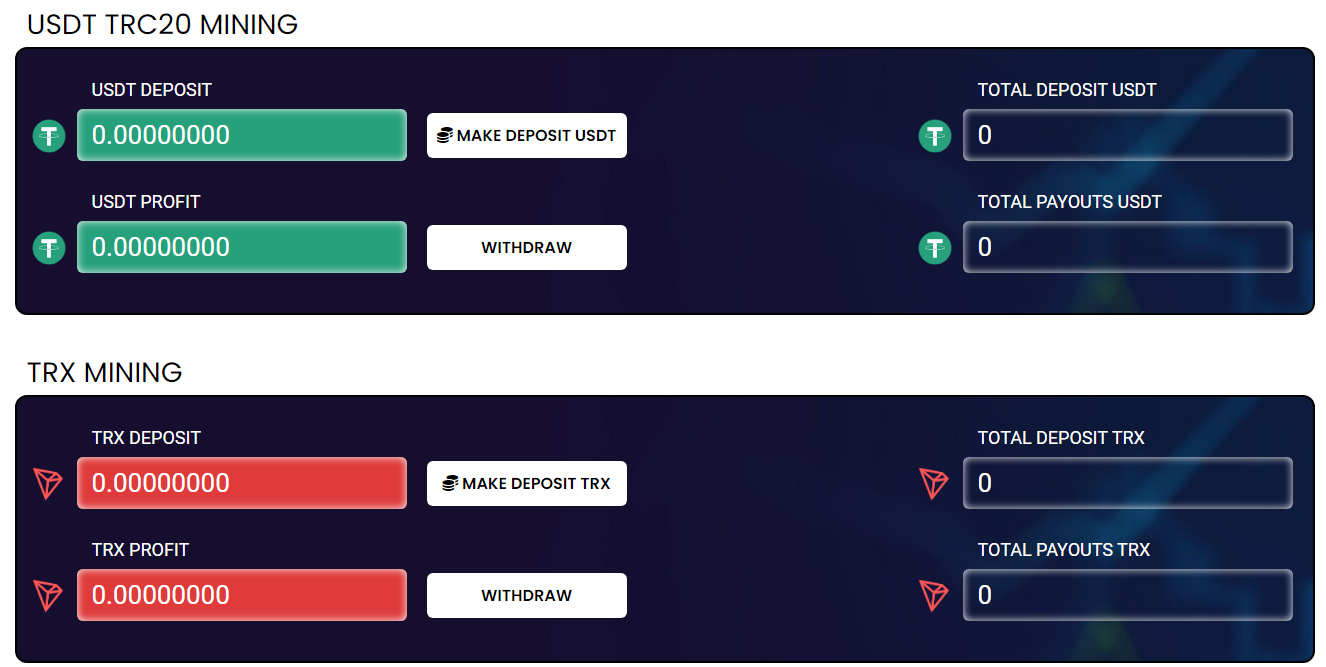 Fair-Mining.net is a mining site where you can mine USDT and TRX (Tether and Tron). Siging up is easy and you have to confirm your account using the link they sent you by email. You don't get any free mining power or a value to buy a plan. So it might not be attractive to start with this site. Nevertheless, I've seen this site being promoted for about two weeks now.
Although the login page says you can login with your username or email address, the last one is the only one that seems to work. The dashboard is very simple. It shows two blocks of the two crypto you can mine. Below those blocks, you see a section with the 4 available plans for each crypto, costing you 5, 40, 250 or 1000 USDT. The profit you can make is 5, 5.5, 6 or 6.5 percent depending on the amount you invest. The value for Tron is about the same (70, 500, 3300 or 13000 TRX). The plans run for 30 days.
There is a two level referral system, where you receive 10% of a deposit from level 1 and 5% for a deposit at level 2.
To withdraw, you must have an active plan according to a question mentioned in the FAQ. Be aware of that!
While writing this review, I received an email (August 8) from the Fair-Mining "admin". I\ill get a bonus! Actually every one who has plan 2, 3 or 4 by August 11th receive a free plan on August the 14th. Nice offer, but they don't say which plan you receive. In the three examples in their email they use the 500 TRX plan. But what scared me the most was the paragraph with this header: "All our project always last longer than 15-22 months" and the text "Our last project was TRX-Factory, which worked for 19 months."
I guess it is a good thing to know upfront that it will stop at some point. I haven't got to know TRX-Factory, but a Google search showed bad reviews (accusings of being a Ponzi-scheme). The email was signed by "admins, Alex & Miranda".
The domain name is registered in Kuala Lumpur, Malaysia since June 20th 2023 and paid for for two years. Besides the registrant (I guess), all other information is shielded by Whoisprotection.cc. According to the Fair-Mining home page, the site started on July 21st 2023.
No address is given. Only a telegram-channel on the dashboard page and a contact-form when you click the "support"-button that is shown on the right of each page. The contact form has two fields, one called "Theme" and the other "Your Message". The first name of the field seems odd. A translation error or ...
With so little info about the owner(s) available and the information from the previous paragraph, I would NOT invest/deposit. But as always, do your own research and don't invest more than you are able to loose!
---

---
Millony
Added: August 5th, 2023
Site: https://millony.cc/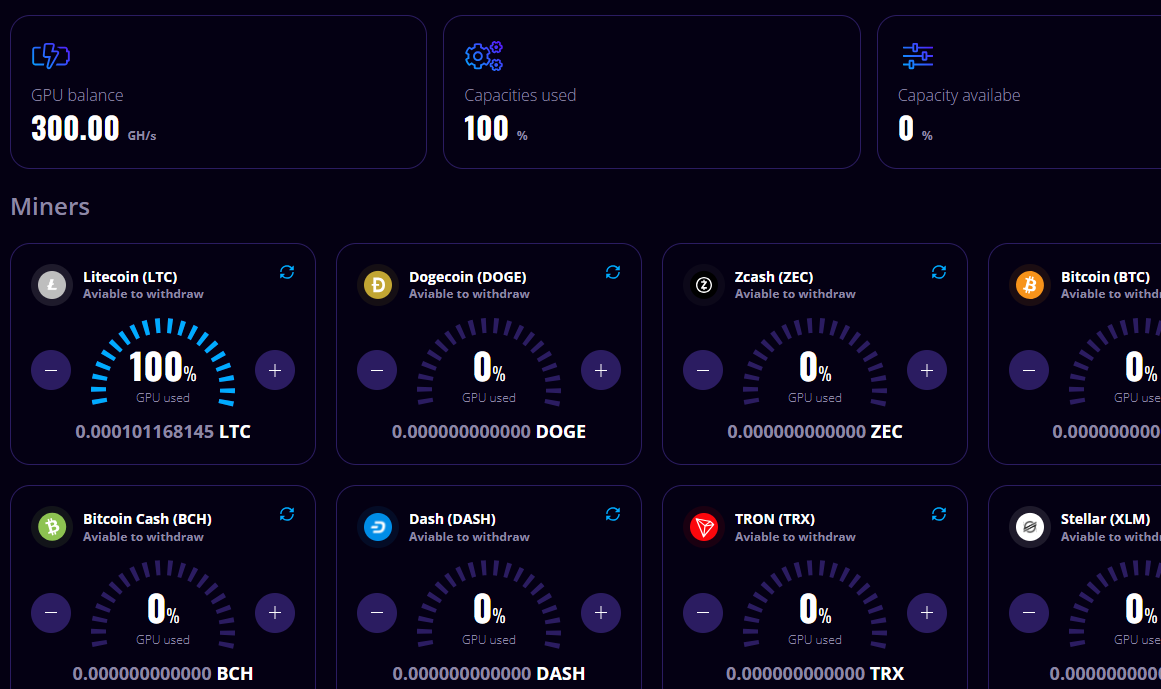 Millony sounds a bit like million and has a nice catch to it. So maybe that is why they choose this name. The website looks like it's running on the same software as the yesterday "discovered" Crypto Station, although the colours are different and the size of the content block are not the same and the number of pages are less. Creating an account is easy and again, you're logged in immediately. You get 300 GH/s for free, which you can distribute over 11 cryptocurrencies by clicking the plus or minus buttons next to each dashboard for that crypto. Power is added in percentage of 5.
There are some language translation errors (aviable) which I've seen before on another site. However, it does not looks like you can change the language of the site. There is no FAQ at first sight, but the option "How to mine" explains a bit (if you are not logged in, the name is FAQ). The section about withdraws tell you that there is a minimum you need to have. That answer is not really helpful, but another question tells you that you need an equivalent of $10. Other requirements are not mentioned, but are likely present (like a deposit).
Be aware that it looks like you are eaning crypto quite quickly, but bear in mind that usually crypto has 8 decimals, where this site uses 12 digits as decimals. I have put all my power on Litecoin and it looks like I make about 10000 litoshi per hour. At the current price of litecoin, I need over 50 days to reach the $10 threshold.
A deposit can be made (DYOR!! Do your own research!), but it is not clear what you get. You choose a coin and an QR-code appears. It does not say how much you need to deposit in fiat value. It only states that it will appear on your balance. It does not say how much power you can get for, let's say, a dollar!
A two-level referral program is present. First level gets you 10% (of what is unknown!) and 0.02 USDT (a currency you can not "mine" on the dashboard!). Second level gifes you just 5%. As I do not have any referrals yet, I can not tell you what the percentage means.
Once logged in, there is no contact information available, but on the opening page of the website you see a Contact option at the bottom. There is a contact form available, a phone number (which I have not tried yet) and an email address. They also display an address here, as well in the menu bar when you are logged in. The address has no number, so that is strange. Also, the zipcode does not seem to match the "Times Square" address. So it probably is fake.
The domain name is registered two days ago (August 3rd 2023) and updated a day later (probably pointing the IP to the right server/hosting). The domain name is paid for one year. All other information is not availble.
For now, I would not deposit any money/crypto.
---

---
Crypto Station
Added: August 4th, 2023
Site: https://cryptostation.cc/

A brand new mining site is Crypto Station. Registration is done quick and you are logged in immediately. You get 180 GH/s mining power for free (2% plan). You can mine 4 cryptocurrencies (Binance Coin, Tron, Litecoin and Shiba Inu). Use the sliders to distribute the mining power between all of them or simply assign all power to one crypto coin.
Every 6 hours you can get an extra bonus (1 - 5 GH/s). This bonus will instantly be credited to the power balance in your dashboard. Don't forget to assign this extra mining power to one of the coins!
The withdraw threshold is pretty high. According to the FAQ it's 0.015 BNB, 50 TRX, 0.03 LTC or 200000 SHIB. The dashboard shows that you can also re-invest your mining profit.
There is a "Affiliate Bonus" section that explains a multi-level referral system. A referral of the first level give you 1 GH/s mining power and 3 GH/s for each deposit the referral make. In the second level, you get 2% for each deposit a referral make and 1% in the third level. However, the same page shows a different percentage in the "Affiliate Statistics" section. I guess I have to see which one is correct.
The contact page displays two peoples faces, one for email support and one for telegram support. These options are visible before login, so that is a plus.
They also display an address, which exists but seems to be a residential house in London, UK. That's a con.
The domain name is registered today (August 4th 2023) using a registrant in Reykjavik and is paid for for a year. All other information is withheld for privacy.
This site is new (1 day old at the time of this writing). So if you want to help and see if it is legit, sign up!
August 25th: Getting to the withdraw amount goes slowly. I have 213 GH/s now (thanks to a few affiliates!) and have 26 TRX. Still 16 Tron to go. I'll keep you updated.
---

---
Mining One Bitcoin
Added: August 4th, 2023
Site: https://miningonebitcoin.com/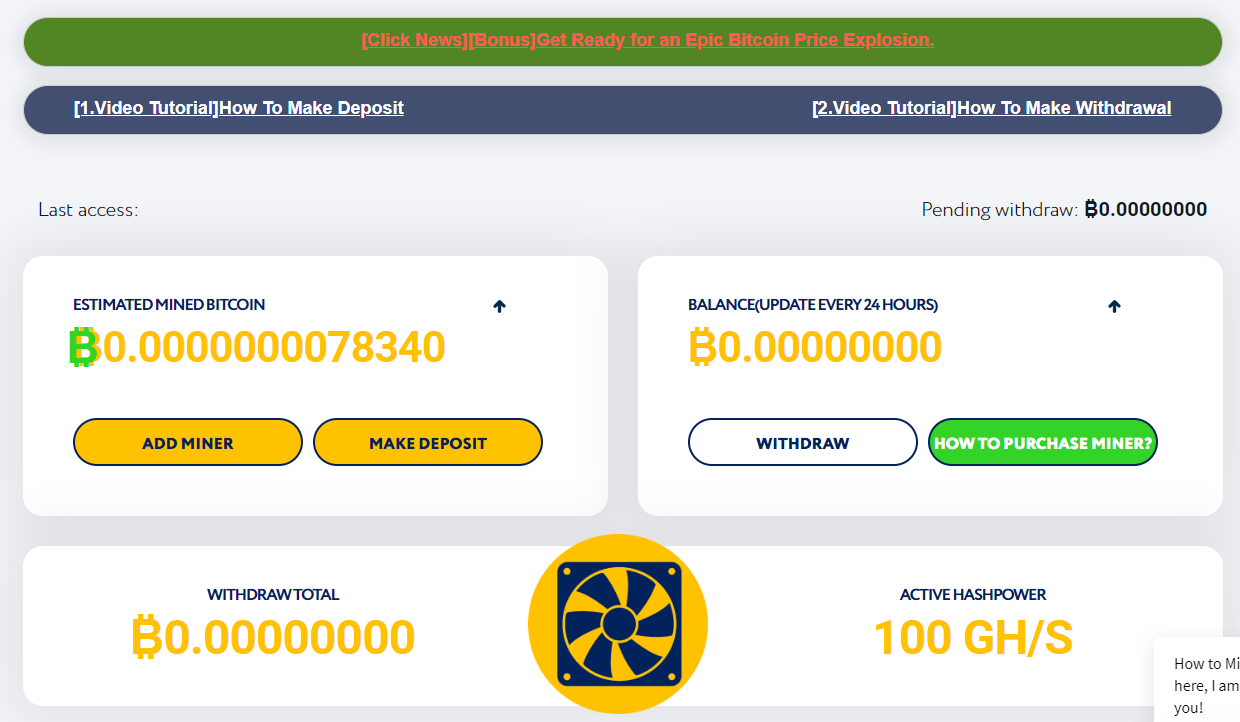 I have come across this Mining One Bitcoin site every once and a while for many months now. Finally I had time to sign up, so I did. The registration form has you enter your email address twice. As I know why this is asked, it feels a bit useless as you can copy/paste your email address. Also, make sure that you enter a unique password (keep reading why). It also ask you to enter "a secret question" and the "answer to this question". Be sure not to provide personal information! I have not entered wallet addresses at this time (which is stated optional).
You receive an email with your login name AND password as plain text, so I would be sure not to use the same password for other sites. In case you did not know: emails can be sniffed/read, so sending password information by email is IMHO "not done".
After login, the site seems to respond quite slow. First thing I noticed on the dashboard is a green bar with orange text in it: very difficult to read. Clicking the link it shows news of June 27th: free Litecoin due to a bitcoin "price explosion". Although the look and feel are very different from Tik Mining and Tron Mining Farm, I suppose they all run on the same software. Maybe even the same people running these sites. What gave it away? The same "news" (in both layout and content, e.q. distributing small amounts in Litecoin and/or Dogecoin) and the fact that all these sites distribute your password and login name in plain text. Also the urls of various pages seem alike.
The 100 Gh of mining power you get free is already assigned to mine Bitcoin and running. It will run for 20 days. It is the "starter" plan, which you will see when clicking the "add miner" button from the block with the blinking green "B". The menu-option "Running Miners" does not show your current free plan. Also, the plans displayed when clicking the "add miners" button do not align with the miners shown on this page.
In case you receive free coins, like the news stated, you can only see them when clicking the "withdraw" button on the second dashboard block. Entering wallet addresses can be done by clicking the "Account" button at the top of the page. As I do not have funds yet, I can not withdraw. I will let you know when I know more.
The contact page displays an address in the United Kingdom, an email address and a contact form. Plenty of options, but clicking the email address does not do anything. Maybe you have to select it yourself? The address is valid and seems to be a office complex. No names on the outside of the building visible. On the dashboard page on the right is an image visible with the text "Your Certificate". Once you click on that, a certificate is shown with your name and the mining power you poses and signed by the CEO. But here is also a telegram button visible. Probably you can use that as well (but why not display it on the dashboard page?)
The domain name is registered on the 28th of July 2021 and paid for till 2027. It is registered in Hong Kong Island, but all other information is redacted for privacy.
I don't know what to think of this site. For now, I wait and see how things turn out. I will not buy a plan right now. To many things give me a feeling this site is rushed However it seems to exists for some time.
---

---
MineBot Crypto
Added: August 4th, 2023
Site: https://www.minebot.io/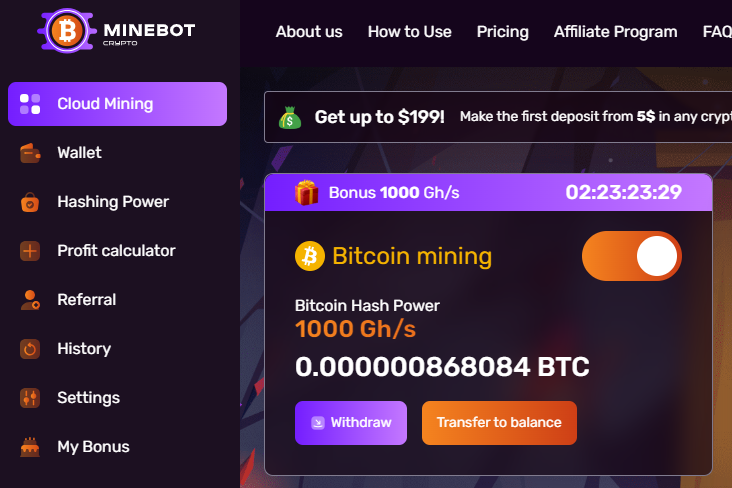 On the home page of the colourful MineBot Crypto site you see a banner with "Get bonus up to $199" and a countdown counter. That is next to the free 3 days of mining power of 1000 Gh/s. As I come across this PTC-ad from Faucet Crypto the last couple of days, I thought I give it a try and share my experiences with you here. After signing up, you see the dashboard. Four blocks for mining Bitcoin, Tron, Dash and Dogecoin are visible. Your 1000 Gh/s of mining power is already assigned to bitcoin-mining. It looks like you can not change that. Once activated clicking the switch, the countdown timer starts. Sometimes the switch turned off again, but the countdown timer keeps running.
You can get a bonus up to $199 USDT if you deposit at least $5.00. For your convenience they show you how much crypto that is in various coins. I must point out that for some coins it is about right, for others you deposit more than the 5 dollar they request. It does NOT show you how much bonus you receive. Do you get the same amount as the amount you deposit or maybe even less? It does not say.
They offer a 3-level referral system, starting with 10% for the first level, 5% for the second and 2% for the third level. You only get that percentage when a deposit is made.
In the FAQ I found that the minimum withdraw threshold is $25.00. Of course you will not reach that with the free mining power.
The site have some tools that "help" you choose. One of them is a "profitability calculator", which currently shows you a montly profit of 78% for Bitcoin, 66% for Tron and around 50% for Dash and Dogecoin. These numbers basically say it all: be careful with investing as the promised profit is way too high!
To get in touch, they only show a contact form. No email or other information besides a link to a Telegram channel.
The domain name is registered 4th of July 2023 and paid for a year. All other information is redacted for privacy.
Conclusion: for now I would not deposit, but do your own research!
---

---
Be Mine
Added: August 4th, 2023
Site: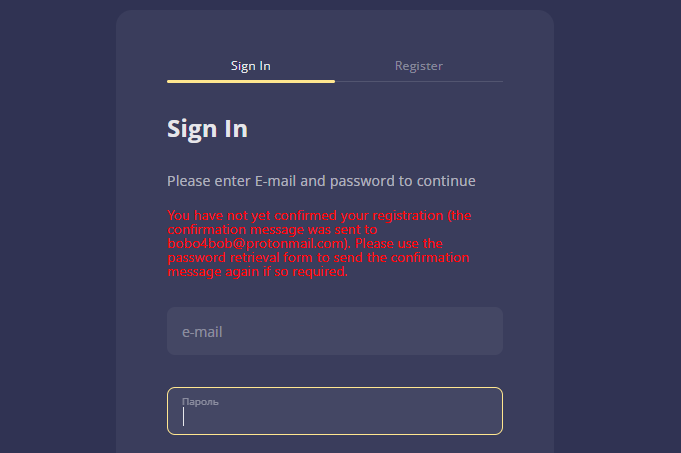 After registration, where you are asked to fill in your phone number, which I skipped, it took a while to receive the email to activate my account. In fact, I have not received anything. After about half an hour, I clicked the chat-button at the lower right at the home page screen. Basically, they ask you to text using Telegram or WhatsApp. I do not want to expose my phone number! The message I typed in the chat-bot got no response. All in all not a good start!
It is possible that I have not received the email due to the fact that I have not entered my phone number. Maybe it is due to my email address. Because of my email address I have been refused registration before. But usually they mention that the email address domain is not allowed.
In fact, due to this all, I decided not to pursue it any further.
Also, the sign-in form displayed a foreign language as the password-label that appears to be missed in translation. I have not bothered to check, but it looks Russian. For me personally that raises a flag.
The domain name is registered December 16th in 2018. The last update to the registry is recorded at June 22nd of 2023. All other information is redacted for privacy. I have no idea if the site was around before June, but if so, I have not noticed it before last June.
As I can not create an account, I would be careful...
---

---
Solana Miner
Added: June 29th, 2023
Updated: August 4th, 2023
Site: https://www.solanaminer.io/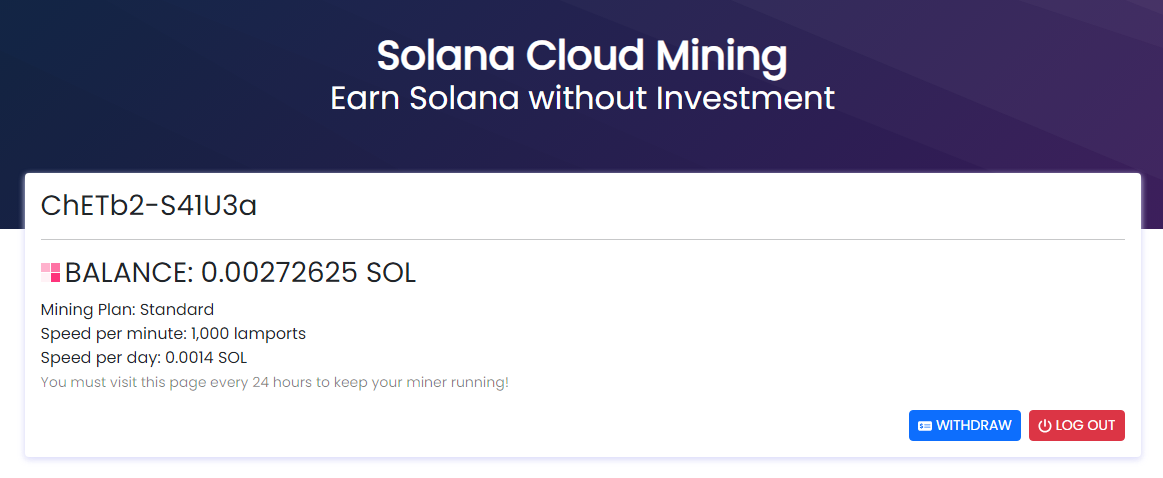 After all the Tron mining sites that almost spread like a virus, I noticed this one: a Solana Miner site. Just login with your Solana-address and the miner started. The miner just runs at 0.0014 $SOL a day. Only catch is that you need to visit the miner page at least once every 24 hours. You can speed things up by buying one of the plans (deposit SOL).
There is a gift page, where you can get extra Solana every hour. All you have to do is refresh the page a couple of times. I just now received 0.001 SOL.
There seems no minimum withdraw present, but when I tried to withdraw, I got the message I need 5 referrals before I can withdraw or I have to invest (a.k.a. buy a plan). So just sign-up for free and let's see how things are going. Keep you posted!
Be careful before investing! Do your own research! I've not had time yet to see if I can find out more about the domain and the people behind it.
Update June 29th: I've reached 5 referrals, but now I need 5 Qualified Referrals...?? What are qualified referrals? People who deposit SOL? Nowhere can I find what qualified referrals are.
Also, the payout for referrals are pretty low. In less than 1 day I collected 0.01 SOL already. So why showing referral payouts as transactional links that are lower than the amount you can make with a few visits to the gift-page?
No further information on the site, which is bad. No support-information or address (not even an email address) is mentioned. The domain is registered June 8th and updated about a week later. All domain information is REDACTED FOR PRIVACY. That is not a good sign! You can deposit from 0.001 SOL, but to buy a plan you need 5 SOL. Strange!
I guess this is a similar site to the above mentioned freetrx.pro site. Up and running for a while, maybe even paying for a short time and once people donated enough, they might disappear. BE CAREFUL!
August 4th: I haven't looked at this site for about a month. Today I logged in again and my balance was reset. Also my referrals are reset. The last time I looked I had no "Qualified referrals" (I guess those who deposit). Gladly! Do not invest in this site, as this is probably a site like the "freetrx.pro" miners. Read my experience with these kind of sites.
---

---
Cin Mining
Added: June 3rd, 2023
Updated: August 4th, 2023
Site: https://cinmining.com/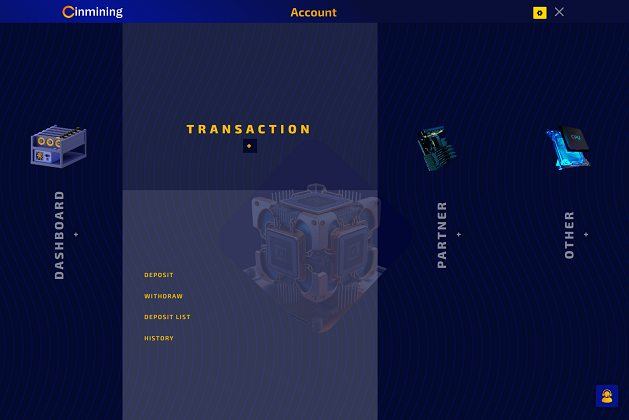 This site had a promotion going when I signed up (and still does!). I got a $20.00 deposit for free (free earning plan). The layout of the site is a bit odd (not like regular sites), so I do not know how and/or if I can change the investment. I have received $1.5 on my account balance, with the $20.00 as Active Deposit.
The plan runs for another 74 days, so let's see if I can get a withdraw at the end of it. I've read about 10 days ago that I need to make a deposit before I can withdraw, but I can't find it in their FAQ right now. It does say that the minimum withdraw amount is $10.00.
August 4th: This site is no longer active! I hope none of you have made deposits. The domain name expires on May 8th 2024, so it might re-appear again. If so, feel warned! Apparently, they updated the domain name info on the 27th of July (probably removed the DNS info).
---

---
ITCOPAY
Added: July 8th, 2023
Site: https://itcopay.com/
Not really a mining site, but an investment company or trading company. They offer 165% return in 14 hours (! yes, you've read it correctly). How many more red flags do you want?
Another promo on the same page, or better, same section, is $100 registration bonus, 50% affiliate reward and also 12500 TRX for registration. That sounds too good to be true! First check: address. 4545 Lennox Gardens does not exist. It was quickly changed in Flat E, 18 Lennox Garden. They were smart enough to change the postal code too (which was an none-existing postal code before: SCX22 FAS33 - if you're quick enough, google might still show this site as a result on the address or postal code or check any other page than the front page). For me enough to not even register!
---

---
Ivory Hash
Added: August 4th, 2023
Site: https://ivoryhash.com
I registered for this site a couple of months ago, but had not time to check it out and write about it. Today, the site does not exists anymore.
WARNING:
As always with hot wallets in cryptocurrencies, you can loose everything. Be carefull when depositing coins and only do this if you can afford to loose them. Keep your coins in a cold (hardware) wallet where you own the keys (12/24 words/pass phrase). Remember, not your keys, not your coins!
DISCLAIMER
Just to be clear, I am not part of any of the sites reviewed here. The review is my personal opinion. I am just a normal user of these faucets just like most of you.
Use this information at your own risk! I will not be liable for the accuracy of this information, the operation these sites or the payments from these sites. If you have got a problem with (one of) these sites, try to contact the owner (although it might be hard, that information is not always present!)